Ranch Operations
Mission Statement
Watrous Valley Ranch is dedicated to outstanding stewardship of the land livestock and wildlife resources we are entrusted with, through integrity, excellence, and innovation.
Operations
The ranch uses regenerative management and conservation practices to improve the land livestock and wildlife we operate on. By consistently improving our grazing application and genetics, we are building a more efficient cattle herd, that will provide our buyers with the highest quality calves possible, that will perform in the toughest environments.
The team on the ranch are dedicated individuals who have a passion for the industry, heritage, and strive for excellence. The ranch works hard to preserve historic heritage and traditions of ranching in the west while at the same time improving the methods of these traditions.
Land and Cattle
The cattle program on the ranch is focused on sustainability and quality beef production. The ranch is broken up into twenty-five different pastures ranging in size from eight-thousand acres down to four hundred acres with an average pasture size of around twenty-five hundred. With thirty-six livestock wells sporadically spread throughout the ranch, we are constantly focused on improving water availability for cattle and wildlife throughout the property. The ranch is comprised of lazy rolling hills with stands of Pinon and Juniper, with Blue Gramma grass, Sideoats Gramma, Winter-fat, and NM feather grass being our primary forage. The ranch has a carrying capacity of around seven cow/calf pairs a section. The cow/calf operation raises commercial Angus cows, calves, and replacement heifers. The ranch prides itself on producing high-quality program calves, that are third-party verified.
The cattle operation is run under a flex herd model. Using mob grazing techniques and running cattle as one herd for as much of the year as possible with frequent pasture moves, in order to provide optimal time for pastures to rest. We stock the ranch with a moderate cow herd size and will bring in stockers on years that will allow utilizing grass we have grown from the previous year. We offer custom grazing on years such as this.
We are certified by the Global Animal Partnership as step 4 producers, and by Angus Link Verified NE-3 program verified, which consists of Source and Age verification, Non-hormone treated cattle, and antibiotic-free calves. Additionally, we participate in Superior Livestock's Vac 34 program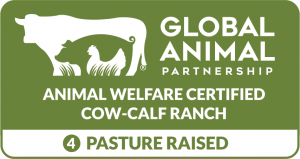 If you are an interested buyer and or interested in utilizing our custom grazing please feel free to contact our Livestock Manager for more information
Andres Orona: andres@watrousvalleyranch.com Tel: (505) 934-8359